Hayward 500 Aqua Bug Above-Ground Automatic Pool Cleaner Review
My experience in writing this Hayward 500 Aqua Bug (Aqua Critter, Diver Dave and Wanda the Whale) review totally changed my perception on shopping. Because it taught me quality doesn't have to come at a price. I am sure when you read this it will give a run for those of you who use the phrase "You get what you paid for":).Now let us get into the meat. The "Above ground pools" offer a lot of fun for the entire family. However, if you have to clean manually, you may find that you have to spend a lot more time scrubbing the floor and walls than you get to relax and enjoy the coursing water. If you are looking for an effective solution on how to clean the "above ground pool" at home; then you need to try one of these automatic cleaners.
What is an Above Ground pool cleaner?
What are they and how do they work? As the name suggests, above ground pool cleaners are pool vacuum cleaners designed for use in cleaning above ground swimming pools and saunas. As most of them are designed to work with your existing pump and filtration system, they are relatively easy to install and do not require to be powered independently.
Owing to the peculiar and irregular designs of "above ground pools", these cleaners are meant to efficiently clean pools with uneven, flat or dished bottoms. They are highly versatile too and will clean everything from the floor to the walls, stairs and even the waterline. Some designs of "above ground pool cleaners" allow them to use the existing filtration system to collect dirt and debris while others are fitted with spacious filter bags to store all the dirt, grime and leaves.
Hayward Above Ground Pool Cleaner Versions
The Hayward cleaners come in four different varieties (versions).
They are all designed with exteriors which resembles some whimsical animated characters.
Indeed, the main difference between the four varieties is in appearance rather than features or performance.
Whichever of the four you opt to buy, under the hood you get the same turbine and gearing system as well as suction assembly.
Here are the four choices:
Hayward 500 Aqua Bug
Hayward 500Y Aqua Critter
Hayward 700 Diver Dave
Hayward 900 Wanda the Whale
Ease of Handling Aqua Bug
Installing these Hayward pool vacuum cleaners is straightforward and it doesn't require any tools. Besides it should take a maximum of 10 minutes only to do all what is needed to put to work.
That said, Hayward includes detailed instructions about how to install these automated vacuum cleaners. Indeed, the 9-step installation process takes up 3 of the 10 pages in the product's user manual.
The steps include sub-steps complete with graphical illustrations for the more technical aspects of the installation process. For installation, operation and maintenance tips; check the appropriate sections in this review below.
Capacity
Pool type
All the four versions of Hayward "pool vacuum cleaners" are recommended for use on permanently-installed, "above ground swimming pools". This refers to those types which boast of rigid walls and usually cannot be readily disassembled for storage. That said, there are many customer reviews heaping praise on these "Hayward pool vacuum cleaners" for their effectiveness in cleaning temporary "above ground pools" such as those by Intex irrespective of their soft sided walls.
Pool Size
It comes with one leader hose and 11 connector hoses with male and female sections for connections, covering 32 feet in total that can cover a pool of 24 feet. But it can also work on larger pools if you use additional connector hoses provided your pump is powerful enough. If the connection unit is in the side of the Center of the longest area it could cover above ground pool of nearly 50 feet.
Pump
All the models could work on pumps of 1 or 1.5 HP. If you use 1.5 HP it will give better power to work properly. If you have pump with less than 1 HP then you would need to use an additional booster pump to support the cleaner to work well.
Climbing
It climbs walls and steps as well. But it might get stuck in the ledge area if you don't have a cover or back pillow.
Corners
It handles corners and you will need some patience to let it work automatically when it gets stuck. Alternatively you also could handle it manually if you want to see it moving immediately.
Dirt and Debris
This "pool cleaner" cleans very well and it will do a perfect job on removing the small dirt and debris that gets into the bottom.
Your role is just limited to some touches on at the outlet grate and leaf basket. You can add a leaf canister which you could buy separately from Hayward, and fix it between two pieces of hoses as in the video below. It is a must have if you don't have a strainer in the skimmer.
It is also better to watch out when you put Aqua bug to use, if there are acorns and leaves in the pool as you may have to manually remove them from the "pool cleaner" or the "leaf canister" before it gets clogged and halt the operation.
There are other precautions you may need to take for a smooth operation. Please read the essential tips below to learn more on this.
Performance
These Hayward "above ground automatic pool cleaners" are certified to clean a standard "above ground swimming pool" in two hours or less. As they are designed to use the same mechanism as your filtration and pump system, you do not need to buy an expensive and power hungry booster pump to run the cleaner unless your current pump is less than 1 HP. As such, they are the best "above ground pool cleaners" for someone looking to cut down on electric bills resulting from pool cleaning and maintenance.
The bumper ring enables movement away from walls without friction. But if your "above-ground pool" has big wrinkles and un even places you need to keep an eye as he it could flip although some users have suggested to be patient as it will take a little time to start by itself automatically.
The term "automatic cleaner" as used in reference to these "above ground pool cleaners" is not there for marketing purposes. The cleaners are completely automated. They make use of Hayward's patented SmartDrive program steering which maps your pool and works out a cleaning pattern that guarantees not a single spot of dirt is left behind.
Noise Levels of Aqua Bug
When it comes to noise, Hayward "above ground automated pool cleaners" are some of the quietest by some margin. The highly refined gearing and turbine system ensures quiet water flow and smooth movement across the floor and up the walls. Moreover, because the cleaners make use of the existing pump and filtration mechanism, they make very little noise of their own.
Accessories of Hayward 500 Aqua Bug
As noted above, Hayward "pool vacuum cleaners" are specifically designed to integrate with your pool's installed pump and filtration mechanism. As such, you do not need a lot of specialized accessories to work. You don't even need for a booster pump or a filter bag for collecting the dirt and leaves. Indeed, the only accessories required to use these "Hayward 500 Aqua bug cleaners" are a hose and skimmer cone. The cone and a 32 feet hose are included in the shipping package at no extra cost.
Weigh and Dimensions of Aqua Bug
Product Dimension: 13.4 x 13.8 x 12.8 inches
Item Weight: 4 Pounds
Shipping Weight: 15.6 Pounds
Origin: It is a US Product (Hayward)
Ratings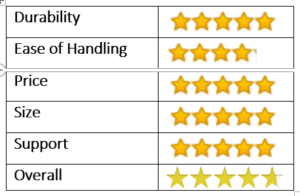 Hayward above ground pool cleaner rating
Essential Tips
This is for handling, installation and Troubleshooting Hayward 500 Aqua bug Pool Cleaners
When operating your cleaner, always check first to ensure that all the other outlets from the pump (such as the skimmer or bottom drain) are securely closed
Never coil your Hayward vacuun cleaner's hose in storage to avoid damage. Such damage is not covered under the warranty terms.
Whenever you are swimming or relaxing in the pool, ensure you remove both the cleaner and the hose from the water.
Brush the rear screen of the pool cleaner after every couple of times you use it in order to remove any debris stuck there.
If the pool cleaner shows slow or no forward movement, it may have a blockage affecting water flow. You should clean the filter system and check to see if the shoes or rings are worn out and need replacement
A Canister could be helpful.
If you have an Intex "above ground pool", the cartridges may not give you enough suction to power this cleaner. IT is made out of paper fiber and there are high chances of clogging too quickly.
If your pool is too big it is better to buy an extra Aqua bug or Wanda the Whale Instead of paying per each section of the hose. When the first Aqua bug begins to give trouble (According to many users it can last over 5 years), this additional one will be ready to take over.
Using a leaf net on the pool for all year round to avoid dirt and debris would be helpful. For those of you who has an oval pool, you could use a gold or silver sharpie to hold each side where ever the net goes. This makes it easier to fix it.
Pros
Benefits of Hayward Above Ground Automatic Pool Cleaners
Easy installation.
Reduce power usage by not requiring a boost pump to work.
No need to empty or replace filtration bags as the cleaner works with the pool's existing filtration system.
SmartDrive steering program ensures efficiency of time and energy usage.
Backed by one year manufacturer's warranty on performance and parts.
Cons
It can flip if the wrinkles are big.
It may not work on too soft walls.
But these are related to your pools conditions or setup issue than the actual problem with the Hayward 500 Aqua bug or it's other versions such as Wanda the whale etc.
The Bottom Line: Is Hayward 500 Aqua Bug Above Ground Automatic Pool Cleaner Worth it?
No doubt. In your quest for the best above ground pool cleaner you have to try the Hayward brand. The Hayward series of pool vacuum cleaners are renowned for their robust performance, easy installation and overall value for money for a lifetime of use. For many homeowners with above ground pools, these Hayward vacuums represent the best above ground pool cleaner money can buy. It is easy to see why this is the case. Hayward 500 Aqua bug and all its versions are affordable, versatile and virtually maintenance free. They have our mark of approval and highest ratings from The Pool Prince!.