Hayward Poolvergnuegen Pool Cleaner Review
If you are looking for a pool cleaner then you will find this hayward poolvergnuegen review, filled with great insights that you cannot ignore while making a decision. But will it make your life better? … The answer is, Its all depends on your needs and preferences!. Sound familiar? Read further, to find out more.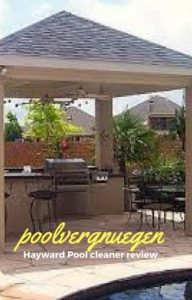 Pool Cleaner Capacity
This is one pool cleaner that has an amazing capacity capable of handling pools of all sizes while meeting your various automatic cleaning needs. But your money spent is not wasted (Around $50 difference between different models) if you have a smaller pool or only basic needs, because you have an option to choose the right size at the point of purchase provided you decide based on the facts from this post. But you must have all the facts before making that decision. Each elements is explained below in detail.
Climbing Walls
Climbing Walls will not be a problem if you use the settings correctly. You need to fix the right mouth fitting to connect the hose. There are 2 extra sizes (Medium and Large) of the mouth that comes in the packaging. If you replace the small one that's attached by default out of the box with the "Large" one, then this could power it to climb the walls as the pool cleaner will have the power to stick on the wall while climbing. This is also a benefit for those with variable speed pumps as it will provide more suction during low cycles. There are few other criteria and settings that are appropriate for climbing too. You will have all the information when you read the relevant sections below.
Climbing Steps
These Pool Cleaners will not climb or work on normal steps. But if you have spacious steps like the one a friend of mine, Erin, has in her pool's corner, then it could handle well with some manual support. (These type of steps could usually accommodate a chair that is used to sit at times while you are still in relaxing in water). You also need to buy the bigger wheels to avoid getting stuck in the step area. But first, test it AS IS before you buy anything extra, as it is based on your unique settings and sizes and other features of the elements in the pool.
Size of Debris
These pool cleaners will not handle very big debris well and over sized leaves such as over 5 inches. For example this may not be suitable for areas such as Texas where heavy blowing is usually present or pools surrounded by very large trees that could drop such leaves into it.
The main choices (with Video)
There are also 2 options to choose from, but first you need to watch this video to know how it works.
2x Pool Cleaner (2 Wheels) – Suitable generally for small pools up to 16' x 32'. Powered by your existing pump by connecting the water passage. This comes with a total of 10 x 1 Meter or 10 x 3' 3.7" size of connectable hoses. (9 vacuum hoses and 1 leader hose that connects the cleaner i-e: Total 32' 9.7").
4x Pool Cleaner (4 Wheels) – Suitable generally for larger ones up to 20' x 40', also powered by your existing pump by connecting the same water passage. This comes with the total of 12 x 1 meter or 12 x 3' 3.7" size of connectable hoses (11 vacuum hoses and 1 leader hose that connects the cleaner i-e: Total of 39' 4.4" ).
How to choose the right Pool Cleaner?
Choice of 2x or 4x Poolvergnuegen
You are aware that this product range "The pool cleaner" works without direct power connection. It works on Electricity but through the existing Pump and Filter. It is connected to the Pump either using the suction port or the skimmer.
There is a secret behind the choice between 2x and 4x and it depends on the size of your pool and the location of water pump or skimmer in the pool.
You need enough hose to reach from the suction port or skimmer basket to the wall or floor in your pool that is furthest away PLUS another 1-2 sections of hose. This could be best illustrated by a few examples.
Scenario 1
If your pool is 40 feet in length and if the suction port or skimmer which is in the side of the pool, is in the middle of that 40 feet (20 feet both ways) then you need a maximum of 25 feet hose. Therefore if you buy a 2x model it would be sufficient unless it has very deep ends that would require well above the length of 20 foot hose.
Scenario 2
If the Suction port or the skimmer is only at the edge then it would require more than 40 feet hose. In this case you need to buy a 4x model with a few additional hoses depending on the depth.
So, calculate the maximum length you need the cleaner to travel and add 6 feet. The 2x goes up to a maximum of just over 32 feet so if your number is more than that, look at the 4x and the good news is that it doesn't cost that much more.
Points to note on Poolvergnuegen:
The points highlighted in above scenarios will cover most of the pools.
The distance with suction port/skimmer to the farthest distance should be your main criteria to decide.
Anything smaller than or equal to 20' and where ever the suction port/skimmer may be, it could be supported by 2x unless it has very deep ends.

Any distance that could be managed with an additional 1 or 2 Hoses also could be fine with this 2x, with variations in RPM setting when needed. The point to note hear is even with 20 foot pools or such surface distance, if it has very deep ends (that demands much more than 20' Hose) then 4x would be better solution.

It is not only the length that make the difference it is the power of the cleaner that is needed to pull the additional hoses as well as the CAM type which are different in the 4x than the 2x that makes this decision to give you trouble free cleaning in the years to come. The 4 Wheel model can drag more hoses and has the right CAM settings (pre-programmed) for larger distances.
Larger Pools would be very rare unless it is for commercial purpose and these choices may not help all the needs of such pools.
Additional Options on Poolvergnuegen:
There is also an additional option if you decide any of the (2W/4W) suction type automatic pool cleaners will work for you. Usually the pool cleaner comes with white body and blue wheels. But the company is also offering a limited edition "Dark Grey" option. Obviously this is not very significant in terms of the performance. But it will give a good blend if you have a dark, grey or black bottom swimming pool.
Operation Hours:
These pool cleaners generally clean the entire pool in 6 to 8 hours by working continuously. The 2 wheel model goes about 8-10 feet before it slightly turns and starts cleaning the next portion, whereas the 4 wheel model goes 11-14 feet before it turns. It automatically measures the pool distances with a unique built in CAM in each type and works on the appropriate coverage to finish the entire pool.
Pools suitable for Hayward Poolvergnuegen
Poolvergnuegen is capable of handling all types of pools according to the company's customer service, although the offer page says "for concrete".
Various surfaces such as Gunite, Concrete, Pebble, Tile, Vinyl and even Fiberglass could be cleaned by the Poolvergnuegen.
Refer to the accessory section below to learn the right choices of accessories for various level of hard and smooth surfaces.
Dirt Clearance dynamics and Other Issues
Any pool cleaner is only as good as the amount of suction it uses to cling to surfaces and deal with obstacles, like pool lights or drains. In the case of the Poolvergnuegen, the manufacturer uses patented adjustable skirts around the bottom of the machine to handle such obstacles with ease. These "skirts" are placed 4 pieces at the bottom front and 4 pieces in the bottom back. The front skirts look like little wheels without tread and they adjust up and down as the cleaner comes across a bump or change in the surface. Because there are 4 of them, they can handle obstacles independently of each other. Suppose the cleaner goes right over your drain and the drain happens to be as wide as 2 of the skirts on the front bottom of the cleaner, then the 2 skirts that encounter the drain will go up and over them, maintaining suction, while the other 2 skirts still have contact with the floor.
Cautions on Poolvergnuegen:
Debris and Cement Remains:
Clear construction debris after maintenance jobs before using this.
Heavy Debris:
If it runs slow, you need to check the cleaner immediately to remove the rocks if any.
Plastics:
Remove Plastic items before putting these cleaners into it.
Algae removal:
Don't rely on this for Algae as it is not bouncing type meaning it won't come up to the water's surface to scoop up any algae.
Chemical in pool:
Don't use the pool cleaner when the chemical you put is still present inside.
Pool Shocking:
Don't use within 2 – 3 days after the shocking period.
Pump operation:
Start the pump only when it is in the water and switch off the pump before taking it out of the water.
Swimming:
Remove the pool cleaner before getting into the pool for swimming.
Special Features-Hayward Poolvergnuegen
Climbing
Walls:
Both "suction" as well as "return side pressure" pool cleaners can climb walls and clean similar to what it does on the floor but following are the important points to note with regard to climbing walls:-
These cleaners climbs the walls and can be set to return down once it reaches the water level.
It will need special settings to climb certain smooth floors such as tiles.
The mouth that connects the hose to the cleaner may need to be replaced by the large mouth to enable climbing and for better sticking to walls.
RPM setting should be within 11-13 RPM to climb walls. If it exceeds it could jump out of the pool.
If it comes out of the water it will intake air and that could cause problems for proper functioning and it could affect the pool's pump too.
If the RPM is lower than 11 it will not climb the wall.
Use the provided floats at appropriate distances from the pool cleaner for ideal wall crawling without jumping out.
Steps:
In general it will not climb steps. But it could climb on small steps if you use large front wheel and if the steps are spacious then it could work with some manual intervention. But these pool cleaners will not get stuck in the step area during its normal operation in the pool due to the steering technology features.
Un-even Floors and Drains:
It can work on un-even floors as well as drains too due to the advanced technological features.
Design
As you can see this pool cleaner has an amazing compact and fancy design. Poolvergnuegen is a German Technology and it was bought by Hayward, a US company, which is using the Poolvergnuegen technology in some of its newer product designs. Hence this is now a US product with high quality advance components such as:-
Self-adjusting Turbine Vanes:
As the Pool cleaner works on the power from the water back force this helps to work with even light flow of the water as there is a paddle wheel to power it. This feature enables it to be powered by multiple level water regulators.
Foldable Vanes:
The foldable vanes helps to move the sucked debris.
Adjustable Skirts:
The adjustable skirts as mentioned above at the bottom helps to maintain proper suction when the pool cleaner meets with obstacles by lifting the unit.
Steering System:
This a programmed self-managing feature based on the pool measurement taken by the CAM to turn at relevant intervals to cover the whole pool. This also helps to move through un-even places enabling it to handle any types of pools.
Noise
There is hardly any noise when inside the water but when it comes out it is noisy. But this pool cleaner is made to operate only under the water surface. You can ensure it returns back to under the water when it comes to the surface by making appropriate settings with correct RPM and other settings mentioned above.
Ease of Handling
Installation manual:
This is a little complicated to read and understand but you don't have to read, each and every section to assemble the cleaner although it might help. It is very good and helpful for reference and to understand the parts and segments of this product. Spend some time reading the manual before you start operating the machine.
Installation and Assembly:
This is pretty easy and it will take only 5 to 10 minutes to assemble and to begin working in the pool.
Trouble shooting:
There is hardly any trouble shooting if you use it in the right way. This is US made and the new "Next generation" version has very durable parts and various optional fittings for your need such as climbing up walls, small steps, un-even surfaces etc. There are instances of sudden malfunctions due to debris getting stuck in the system. You need to ensure that no particles get struck within the machine while assembling.
Should I buy Accessories?
The tips given below could help you to decide what accessories should be bought to support your unique situation.
Large Valves:
The smaller valve is installed and this large valve comes in the packing in extra bag. Very useful for more powerful suction and it helps to stick better with the walls. Very helpful for tile and fiber glass walls.
Inline Catch Bag:
This helps to catch the larger debris that could damage the equipment. There are times children and others throw larger rocks from outside pool area into the pool. Also this can happen during maintenance work in the surrounding area.
Turbo Separator:
This segregates and spin outs the larger debris caught by the inline catch bag. This also cuts down on back flushing filters in the long run.
Leaf Canister:
This helps to catch the large leaves. This is very useful for windy areas such as Texas and areas where it is surrounded by large Trees. This also helps to save your skimmer/pump getting damaged.
Hose:
Hoses available at 1 meter or 3' 3.4" units and it could be used as per the requirement.
This is manufactured in Belgium which is known for world's best hoses.
In every unit you will find one piece of hose with a grey edge on the one side.This should be connected to the mouth of the pool cleaner.
All hoses comes with one male and with one female port which helps to connect with each other.
If they are connected properly there cannot be any leaks. If you still find leaks after proper verification, you need to get it replaced without any delays. If it is during the warranty period it will be at free of cost and if it is after this period, then you will have to purchase it at your own cost. It is important to replace as the leaking hose could affect the pool cleaner's performance.
Tires:
Tires for different need
1. Front Tires for both 2x and 4x models with Super Humps for pools with abnormally high main drains to stop cleaner from hanging up.2. Standard Rear Tires for 4x models only for all pool surfaces and shapes.
Weight & Dimensions
Hayward Poolvergnuegen 2x
Weight 4.9 Lbs Coverage: Pool Floor, Walls and Coves
Pool Size: 16' x 32' Hose Length: 33' (with Optional Extras)
Drive Sequence: 8' – 10' Minimum Pump Size: ½ hp or 35 gpm
Shipping Weight: 16.1 Lbs Dimension: 41"x13"x13"
Hayward Poolvergnuegen 4x
Weight 6.6 Lbs Coverage: Pool Floor, Walls and Coves
Pool Size 20' x 40' Hose Length: 40' (with Optional Extras)
Drive Sequence 8' – 12' Minimum Pump Size: ½ hp or 35 gpm
Shipping Weight: 19 Lbs Dimension: 41"x13"x13"
Ratings
Overall: * * * *
Durability: * * * * *
Ease of Handling: * * * *
Price: * * * * *
Size: * * * * *
Support: * * * *
(Note the Ratings given here are for "Next Generation" version only)
Pros
This is a high quality US product, and all parts manufactured in US except the hoses
Hoses manufactured from Belgium which is famous for this product.
Compact and fancy looking cleaner with multiple options.
Generally suites all types of pools and relevant accessories are available.
Hardly any noise while in operation inside the pool within the water.
Easy assembly and troubleshooting with state of the art technology "next generation".
Cons
The setting for climbing and trouble shooting is a little time consuming with trial and error.
Temporary malfunctions could occur for various practical issues, but guidance available to solve all of them.
It cannot climb or work on normal steps without personal intervention.
Price
The price is reasonable considering the features and not forgetting the fact that it is a US product.
The main saving comes from your time in personally cleaning the pool as you could just set it and leave for doing your other jobs while benefiting by a perfect job of pool cleaning.
All in all, I find this to be a very efficient cleaner and well worth the price. It has to say something that Hayward, one of the largest manufacturers of pool cleaning equipment in the US, was willing to buy the maker of the Poolvergnuegen in order to gain access to its technology.
Consumers who have purchased this cleaner and used it for some time and have been very pleased with its performance, pool coverage and durability. If you've got a good sized in-ground pool, either the 2x or 4x version is likely going to suit your needs for years to come.