XtremepowerUS Automatic Vacuum Generic Kreepy Krauly Climb Wall Pool Cleaner Review
This XtremepowerUS pool cleaner review will be a guide for the rest of your life if you like changing things every year in an affordable manner. Because the facts mentioned here are so ironic that, in a moment, you will realize "this is it" or "Just get it"!Here we begin the review… Having a pool can be a wonderful feature in your backyard that will help you keep cool and get a little exercise during the hot summer months. However, keeping it clean may not be your favorite chore in the world and paying a company to come out either every week or every other week may not be in your budget. Therefore, having an "automatic pool cleaner" may be an amazing option for you to not only save yourself some money but also to ensure that your pool gets the cleaning it needs when it needs it without emptying your bank account.
What is an Automatic Pool Cleaner?
Automatic pool cleaners are an amazing solution to keep it clean ensuring that it doesn't take up all your time. These nifty little vacuums move themselves around the pool to pull up any debris hanging around at the bottom including dust, dirt, leaves, and bugs. You will still have to skim the top of your little oasis and perhaps touch up the bottom, but it will take less work. Some of these "automatic pool cleaners" will even climb up the walls to ensure that everything is properly cleaned up. You will find that the bottom and sides will be cleaner as well as the water.
How it is used?
Using your XtremepowerUS Kreepy Krauly pool cleaner is incredibly easy as you can connect the hose to either the back line (also called the main drain) for your pool or the skimmer line. The difference between the back line and the skimmer is the location. The back line is located at the bottom to pull water from the bottom and through the filter, while the skimmer pulls water from the surface of the water then into the filter. This allows for water to be filtered from various sections to help keep it cleaner. The water and dirt are pulled into the vacuum then into the filtration system to be cleaned and pushed back out into the pool through the return lines.
Models of XtremepowerUS
There are a 3 main models we have identified in this review that you can choose from when buying an XtremepowerUS automatic pool cleaner. They are:-
Kreepy Krauly
Generic Automatic
In-ground Automatic
However, the Kreepy Krauly pool cleaner seems to be more favorable.
It is the "best seller" "In-ground Automatic Pool Cleaner" in this range and offers customers a better overall clean and is easy to work with. Many have even said that the set-up is incredibly easy for Kreepy Krauly and even allows installation and removal with ease.
Capacity of XtremepowerUS Kreepy Krauly
Pool Types
It can handle all kind of pools, Tile, Gunite, Sand bottom, Vinyl lined, Fiber glass etc.
Pool Size
The Kreepy Krauly works best in in-ground pools that are 16 x 32 or less. If the distance from skimmer to the furthest edge of your pool is more than 32 feet, then you may have to buy additional hoses. Please review the "Essential Tips" section below get some important insights on this.
Pump
You should have at least a 3/4 HP or 1600 GHP pump. Ensuring the pump is 1HP or 1600 GHP will provide the vacuum with better amount of suction to function properly.
Climbing Walls
It easily climbs the walls and cleans the walls at ease. You can see a demo in the video below.
Climbing Steps
If your pool has steps it may either miss them or just barely vacuum them which will leave you with a small bit of work. But this could be just a weekly chore as it doesn't need to be done every day.
Handling Ledges
Please ensure you use the Ledge cover while using the cleaner. This is just a fitting that covers the Ledge to look like a wall and it could be bought in Amazon too.
Handling Corners
This automatic pool cleaner also handles rounded corners like a dream though square corners may be an issue due to the surface area it uses to pull up debris. However, some have seen that this isn't an issue due to the movement of the water around corners and steps.
Dirt & Debris
The XtremepowerUS cleaner also seems to handle a great deal of debris including large leaves, debris and dirt with ease. But you need to ensure you give the correct suction power through the pump you are using.
Essential Tips
This is an important part of our reviews. Most customers find installation a breeze as it doesn't require the use of any tools.
The hose simply connects to either the back line or skimmer line and you set the little vacuum loose on the bottom of your pool and comes with all the fittings necessary to follow the installation guide inside the box.
Most customers can install this product themselves in roughly 30 minutes, however some have been successful in installing it faster.
It handles well as it seems to do most of the work though occasionally you may need to ensure it is moving properly along the bottom.
A few accessories that many customers have opted to purchase along with the Kreepy Krauly include the Hayward W560 PoolVac Navigator Standard Leaf Canister and the Swimline 8040 Professional Heavy Duty Deep-Bag Pool Rake, Blue. Both items are optional though they seem to help with preventing the cleaner from getting snagged and the removal of twigs if your pool is beneath a tree.
You need, for better performance, to give regular clearance of big leaves and debris in order to avoid clogging in the hose.
If you need more hoses, you should ensure buying the right size and even the right color to fit into the existing one.
The heavy hoses could affect performance and it is better to buy from Amazon to pick the right one. You can search for Kreepy Krauler vacuum hose. You can find at: http://www.amazon.com/gp/product/B00T3JC1HY/ref=ox_sc_act_title_1?ie=UTF8&psc=1&smid=A1Y4RBJHD0SC34
But for the best performance on hard or bigger pools, some users have suggested to use only the first 2 hoses that comes with the Kreepy Krauly and the rest of the hoses floating on the surface of the water should be lighter so you might test it without using all the weights.. The first weight should be used on the hose in the edge close to the cleaner and only one other in the middle of the next hose. This will give the cleaner enough power to handle all areas of the pool.If your pool is having a return line near the surface of the water please ensure that the control cover faces downwards, to avoid the hoses getting pushed which could affect the performance.
Special features
One of the features that this cleaner offers is its ability to connect directly to your filtration system without any additional equipment or the use of tools.
You will also notice that it doesn't require any extra electricity outlet as it gets its suction power from your filtration system allowing you to rest easy knowing this isn't going to cost a great deal.
Another amazing feature is its ability to clean any pool within the 16 x 32 size limit no matter what the construction or shape.
One of the important features is the Cost vs Benefit which is explained further below under the "Price" section.
Design of XtremepowerUS
The flat disk shaped bottom of thi automatic cleaner is not only a beneficial part of the design but ensures that the cleaner sticks to the bottom and sides as it cleans. Its simple construction is another bonus leaving diagnosis of any issues as simple as checking the hose, flapper, and the baffle plate. This means that you don't have to specialize in pool equipment to repair the vacuum and allows for easy repairs if any need to be done.
Noise Levels
There is a little noise from this XtremepowerUS cleaner as it works to clean, however it is otherwise quiet compared to some of the pool pumps on the market today. There is a small ticking noise when the cleaner is working which can be traced back to the movement of the flapper, however it isn't unbearable and helps you in knowing that it is functioning as it should. It should barely be audible unless you are standing directly over the pool and if it is too loud then it is recommended that the weights be redistributed.
Ease of handling
Customers who have purchased this automatic cleaner say that handling this product is incredibly easy. Not only does it require little effort in assembly and installation, but offers them the ability to enjoy other things rather than cleaning all day. Though there are a few that say they had some trouble, most have determined that these issues may be due to incorrectly following instructions or a lack of knowledge about the various parts of their pool.
Accessories
Due to the generic nature of this automatic cleaner, you can use a wide variety of accessories with it, though it is recommended by many to simply use the product as is. While there are other things that you can use to help the tiny cleaner along, it should be used on its own as intended.
Some have, however, suggested baskets and other accessories such as a canister for catching larger pieces of debris to protect your pump.
Weight and Dimensions
Package: 41 x 18 x 6 inches
Shipping Weight: 14.4 lbs
Item Weight: 12 lbs
Origin: US Product Made in China
Ratings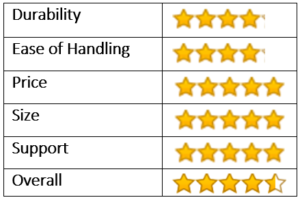 Pros of XtremepowerUS
Handles all types of Pools.
Not much of an extra power needed as it doesn't require a separate power outlet.
Cost is very reasonable.
Easy to install.
Easy to maintain.
Cons of XtremepowerUS
May not handle steps very well.
Not very durable as it can lasts around 1 ½ years average.
Price of Kreepy Krauly
The price is very reasonable compared to other vacuums on the market and tends to last between a year to a year and a half before customers need to think about replacing it. What more do you want for a price that is even less than the cost of a family meal? This is why this is well worth it as you could easily buy a new one and put it to work without having to replace parts like you would have to do with other, more expensive, cleaners.
If you are like me and don't like to repair things but prefer to replace with a new one every now and then, then this is an ideal choice as the cost is also very low compared to the other in ground pool cleaners with similar capabilities.
The Bottom line is – is it worth buying this cleaner? Of course, it is a big YES! It gets a highest rating from us with full approval.